All pictures are thumbnails. Click on the picture and it grows before your very eyes
The booth's location is in the Interlaken West train station, Interlaken, Switzerland. Patrick Min took this photo while at the Eurographics Conference, August, 2000.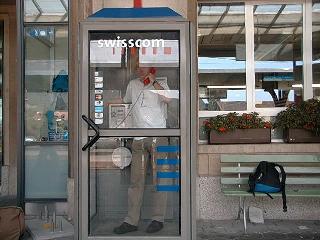 The Dobkin family took pictures of the phonebooths of the world in one massive excursion from January to July, 2000. click here to see the archives
After the 2nd World War, England was helping the Netherlands rebuild their communications infrastructure by shipping all sorts of phone equipment, including telephone booths across the North Sea. A German spy, a Hans Gruber, was stuck in London when the war ended, and found out about an imminent phone booth shipment. Under cover of night he made it to the harbour, and managed to hide in one of the booths. A few hours into the trip, the ship was surprised by a sudden storm, capsized, and sunk. Luckily for Mr. Gruber his booth was fully waterproof, and stayed afloat. After two days he was washed ashore at Katwijk, a small coastal town near Leiden. A coast guard found him, listened to his story, and decided to let him go in exchange for the booth. The coast guard, being an avid reader of sea voyage stories, decided to put the booth on the roof of his house in Leiden, so he could read those stories in a dry spot, with the familiar patter of falling rain all around him. And that's how the booth got to where it is now.
In the vast NorthEast of the United States and the Maritime Provinces of Canada, there is often a shortage of people to place in phone booth pictures. We were forced to make an excursion to these areas in August of 1997 to attempt to right this wrong
Liverpool, Nova Scotia ...... Peggy's Cove, Nova Scotia


Bar Harbor, Maine ...... Saint Andrew's, New Brunscwick
One of the original pictures -- Suzanne in Aarhus, Denmark on July 16, 1982

---
Our trip to England in 1987

Sarah in cart at Gatwick Airport

---
Trip to California in August, 1998
Meeting at Dana Point

A picture of David maybe from 1998

The San Diego Zoo


---
Trip to California summer of 2001

Sarah and Ben

en route to Legoland



Disneyland
Ben and Jane

Broken phone

Jane

A picture at Disneyland Summer of 2001

---
Trips by Sarah's friends

Claire's choir trip to England, June, 2001

Joyce in Switzerland with the PHS orchaestra in February, 2000

The orchaestra trip in February, 2002


---
The Jan Woods section

Jan Woods in Paris July, 2000
Two pictures of Jan Woods in Arezzo, Italy in July 2001


Jan Woods in Cortina, Italy, December, 2000

---
Jason Grech in China in 2001 (or was it 2000?)

Larry and Janet at Disneyland California Adeventure July 5, 2001

Matt

and Betsy

in Tahiti on their honeymoon in August, 2000.
---
Adam and Esther went to Scotland and sent back this wonderful picture of charming people

Before they realized that this colelction is more about these


than about charming people.
---
Haishu and Kai went to Scandinavia as Haishu explains
David, I forgot to explain each photo. Photo one is taken outside skensen park in Stockholm. Photo two is a newspaper stand in Copenhegen. Photo three is taken on the Avenue in Gothenberg, Sweden. Photo four is taken on a small island called Bronen near Gothenberg. Haishu
---
Simon Byers described his pictures as follows

Left pic: A Deutsche Telekom box within sight of the Swiss border in Konstanz. Perfect for those spy film rendezvous situations.

Middle: Amsterdam, right outsde the central station, halfway to the nearest "coffee shop", if that is why you arrived in Amsterdam.

Right: A local Koeln company's box in front of a pair of Deutsche Telekom boxes straddling a Strassenbahn line.

I did have a model with me to pose but I thought you would want a full shot of the box. Also I have never yet owned a digital camera. .. .

SDB
---
Sarah's contributions from the road trip and her life at PHS

This picture was taken on June 26, 2002 on the last night that Andy and Jon spent in Sounth Carolina. We had just finished dinner at The Crazy Crab and John is holding the doggie bags. Andy is holding a frisbee that a little boy at the next table tried to steal from us. In the background, there was a man singing children's music including Unicorn (Words and music by Shel Silverstein) with the chorus ``There were green alligators and long necked geese ... '' (see for details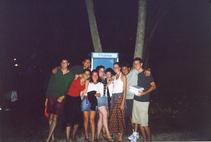 This picture was taken on July 1, 2002 when we drove to Savannah, Georgia to the train station to drop off Noah so that he could catch his train home. There was nothing around the train statione xcept a factory that looked pretty abandoned so we drove Noah to the city fo Savannah so that he could spend the 6 hours he had to wait there and catch a taxi back to the train station. But it turns out he had to wait an extra 5 hours because his train was hit by a car on the way up from Florida.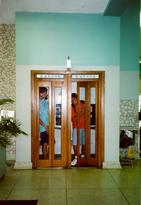 This picture was taken on Saturday night the 27th of July after Joyce got her wisdom tooth taken out. We walked from Joyce's house through the scary path to the high school and reminisced about Joe's attempt to film an episode of JackAss where he jumps off of the phone booth into the bushes while Claire is talking on the phone.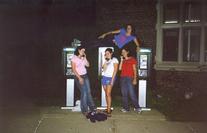 ---
These are pictures Janet, Frank and Henry took in South Africa in May, 2003 with the comment
I don't know if you want captions that are witty, or merely informative, but the first picture was of booths near the Victoria and Alfred (!) Harbor in Cape Town, and the second from a great view point outside of Cape Town--and the people talking on the phones in the booths in the city looked at Henry, while he was snapping, like they thought he was a spy.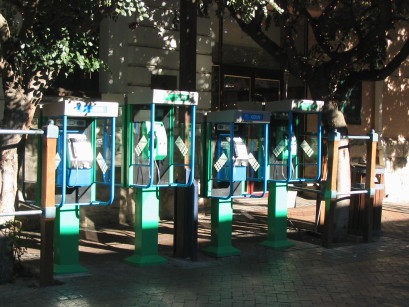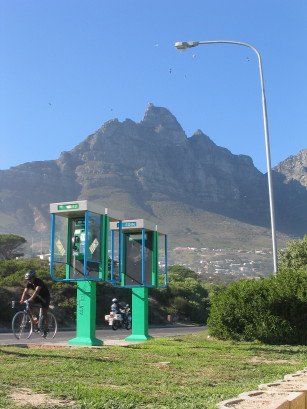 ---
October 21, 2003

Picture by Jeff Herbst in Somaliland

Iím afraid that there are no phone booths in Somaliland. The terrestrial system they inherited was so bad that, like most African countries, they have just gone cellular. There are, however, lots of abandoned MIG17ís in Hargeysa and I hope that the attached is adequate proof of my journey.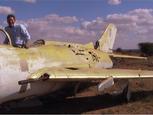 ---
December 17, 2003

Picture by Haishu Wang in China

This is the one taken in a park in ShenZhen, a special financial district city of China, near Hong Kong.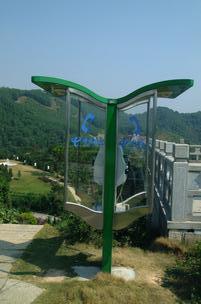 ---
February 15, 2004

Pictures from New Zealand by Stephen North

This phone booth is very near some of the most famous architecture in the whole South Island of New Zealand, the train station in Dunedin. See here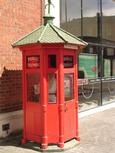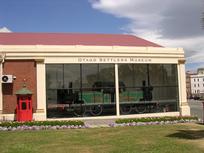 From the center of town in Akaroa we took an unpaved, windy, steep road for about 5 miles with the idea of hoping to find a small, isolated beach at the point at its end. We went through 3 or 4 gates for sheep farms. We almost turned back a few times. When we reached the end, there was no parking lot or public access - only a private home on a farm. But there was a handmade sign saying where to park and to ask the owner about the trail to the beach. So we did. The owner was middle aged, quiet, a bit distant but hospitable. He cheerfully restrained his pet hog so we could walk across the pasture to the beach. From the beach you can hike out to Albatross Point (handmade sign by the same guy says the albatross left a while back, but there are seals and one of the most vibrant kelp beds I've ever seen). The phone booth was next to one of his barns. Totally incongruous. Didn't see a phone in it. Maybe animals live in it.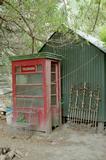 The other photo is a shot looking back at the beach and you can see the pasture and a glimpse of one of the farm buildings.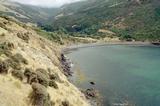 ---
Received August 3, 2004 from Leslie Jennings

Dean Dobkin, Instead of a postcard this time, I thought I'd send you something for your collection. Former Ambassador (and former WWS lecturer) Jack Matlock, Jr. led a fine group of 45 alumni from Moscow to St. Petersburg recently. Here he is in Yaroslavl. When we return next summer, I'll try to get Caryl Emerson... Hope your summer is going well. Leslie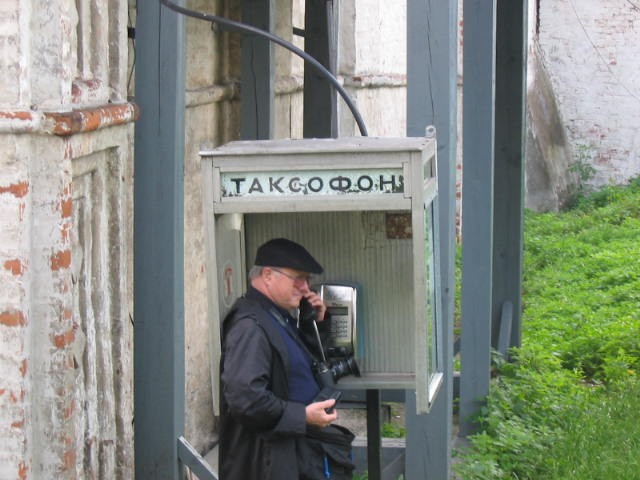 ---
Received November 29, 2005 from Steve North

It's just Daintree North Queensland. This would be a great place to take a touristy boat ride to look for crocodiles, but we skipped it and just asked the boat guys if they had serious floods in the rainy season (of course) and they pointed to a mark halfway up a phone pole. The Big Barramundi across the street had good mango smoothies.

One of the best things was driving way out to Eungella State Park and walking on the ridge a while. It is enough off the beaten path that you get a sense of the sparseness of the whole country. You drive for about 45 min. through this very wide valley, and at the end the road starts ascending on switchbacks until you get to the top of the ridge and behind that is the outback. At one place we stopped for sandwiches (hard to believe they can stay in business) and we looked up the road and saw hundreds, maybe thousands of large fruit bats in the trees and there was a hiking trail into the forest.

A little further back is a park area that the Lonely Planet says is the best place to see a platypus in the wild. We check out the visitor center that says you should go up to some kind of viewing deck, and dusk is the best time. It was about 1 PM when most critters are lying low to keep out of the sun but we drove that far so we set off to look anyway. The footpath passes under the roadway at a certain point and an older gentleman is standing there with binoculars looking around. I keep going but Linda stops and asks him what he's looking for, and it turns out there are a couple of platypus foraging in the bank there and we got a really good look at them. The reef snorkeling was good.

Another day we hired a guide, who was sort of the Dr. Doolittle / Grumpy Old Man of the Rain Forest. We still start singing WHERE ARE YOU CATBIRD just for laughs. He has a website http://www.anhs.com.au/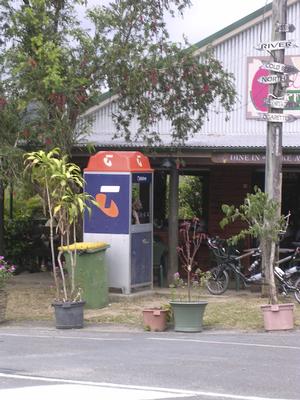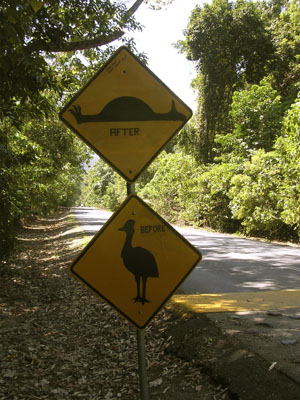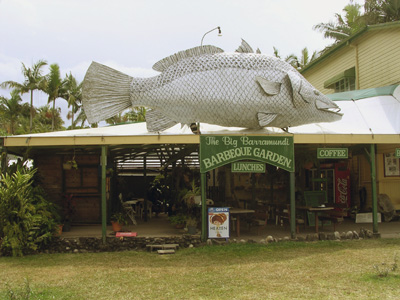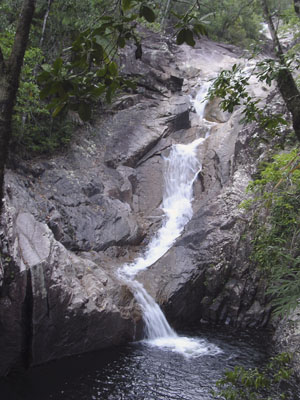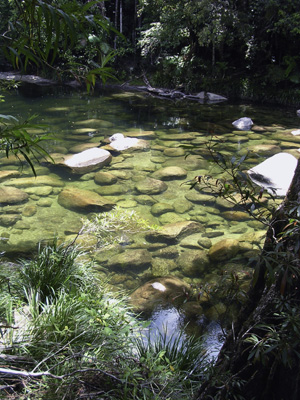 April 28, 2007 (from paige Dobkin)
Greetings from Amman, where Cristiano and i just got back from a week in Bahrain where we found the phoneless phonebooth below. Cristiano used his own for the picture... :)